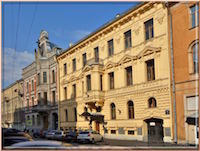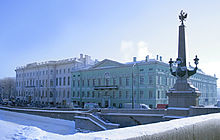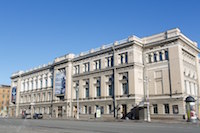 Dasha Gabay received her Bachelor of Arts Degree from M. Mussorgsky Music College in St. Petersburg, Russia. Ms. Gabay then went on to study Directing at St. Petersburg Cultural Institute. Her education was continued at the St. Petersburg Conservatory where she received her Master of Music Degree in piano performance, chamber music, pedagogy and accompaniment (collaborative arts). She studied with the renowned teachers; professors, Galina Fedorova, Tamara Fidler, Sofia Vackman, and Sergei Urivaev.
While starting her master's degree (1993), she began working as accompanist in St. Petersburg Music School No. 11, St. Petersburg Arts School, St. Petersburg Boarding School No 32 and the M. Mussorgski Music College. She worked in the classes of professors of horn, oboe, trombone, violin, viola and voice; in addition she began teaching piano and chamber music. After finishing her master's degree, Ms. Gabay received a full time position as a piano teacher/accompanist in St. Petersburg Music School No11.
Throughout her concert career she had performed in some of the great halls of Russia, including the Great Hall of the St. Petersburg Philharmonic, the Chamber Hall of the St. Petersburg Philharmonic, St. Petersburg Capella as well as others throughout St. Petersburg. As an accompanist she had performed in many All-Russian and International competitions, where she has been awarded "The Best Accompaniment Diploma" three times (1995, 1997, and 1998). Also, as an accompanist, she has participated in several recordings for St. Petersburg Radio and Television.
Ms. Gabay immigrated to the United States in December of 1998. She has been a faculty member of the Levine Music since 1999 and in addition maintains a private studio in Fairfax Station, VA. Ms. Gabay has already performed extensively throughout Washington D.C. area as accompanist. She has performed in such halls as; Kennedy Center Concert Hall, Kennedy Center Terrace Theater, The Lyceum and the Harris Theater of George Mason University among others.
...pianist Darya Gabay handled [this recital] with intelligence, fine technique and a commendable grasp of appropriate phrasing and dynamics. Her participation was exemplary throughout the program...
Joseph McLellan Special to The Washington Post August 12, 1999; Page V4